Both the Sublime Text and Sublime Merge teams have been hard at work this year. We've got some exciting things planned, so stay tuned!
Today we're releasing the first Sublime Merge build of the year - Build 2047!
This build brings plenty of new features and enhancements, and here are our favourites:
Locations Filtering
When you've got lots of branches, the locations bar can fill up quickly. That's why we've made filtering the locations bar simple.
Thousands of branches? No problem. You can filter down to the exact branches you're looking for, using the same fuzzy-filtering seen in Sublime Text.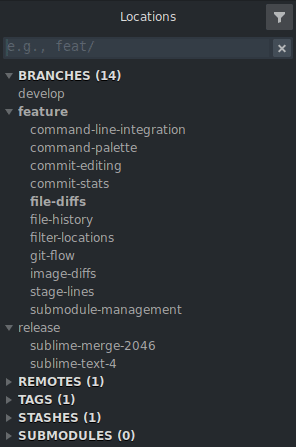 You can expect to see the same filtering in the files list soon.
Tag Workflow Improvements
Previously checking out a tag involved navigating to the tag in the commit graph, and checking out the commit. You can now check out the tag directly from the tag context menu using the Checkout tag entry.
We've also added the ability to delete remote tags, which can also be accessed via the tag context menu.
More Image Diff Formats
Image diffs are critical for graphic designers and web developers. That's why we've introduced even more supported image diff formats.
You can now preview changes to your PSD documents, as well as TGA, PPM, and PGM images.

Theme Changes
Frequently switch between light and dark mode? You can now enable auto theme, which will automatically select the theme based on your system theme.
Thanks to the work of the Sublime Text team, you'll also notice a refreshed application menu on Windows and Linux.


Feedback
We hope you enjoy the latest build of Sublime Merge! As always, we love hearing from our community. If you've got feedback to share, feel free to share your thoughts via the issue tracker or the forum.